40 Days of Faith
Day 14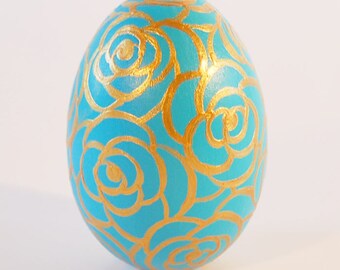 https://www.etsy.com/listing/183783481/ceramic-egg-with-golden-rose-design?
ref=related-7
Bye Bye...Bacon?
I cuddle Easter in my palms like a delicate blue and yellow porcelain egg that I do not want to drop.
In order to find that Egg and hold its initially cold fragile shell in my hands, I have to make it through 40 days of faith where I give up material goods to remember that I can lean on my faith, my love, and above all God.
I am rarely successful at giving up something. First and foremost, I am not a "material girl." I hate malls, and I gave up buying or offering Christmas gifts 7 years ago. Christmas is so covered with frills and bows that suffocate me. Easter, however, I love.
I have sadly said goodbye for 40 days to bacon, or meat, or chocolate during different periods of lent. Now bacon is not an easy one. My son and I have a running joke where I tell him, "I love you more than bacon" to express how much I love him because I looooove bacon!
When I give up something diligently during those 40 days, I feel like I have earned the right to gently stroke that delicate blue and yellow egg. I am the one person after service that is simply smiling and telling everybody, "Happy Easter" whether it is sunny or rainy outside. When I do not give up anything or give up on giving up anything along the way, I immediately think next year, the 40 days of faith will be fulfilling.
Late to church or Dear Former Church
I will not lie I tend to run late for church mainly because my weeks are hectic. Saturdays turns out to be my only "me" day. My son also is very busy on Saturdays. Okay, I will not blame it on him. I am late because I try to squeeze in the gym and even sometimes laundry on Sunday mornings. This year, after juggling full-time work, being the sole caretaker of my father (who is fighting to remember), and of course making sure I am there for my son, I noticed how exhausted I am.
Likewise, my car is not working properly. Yes, before we had a car or I had my license, my son and I used to take the T to our former church. We also presently take the T to school and work, but we cannot take the T on Sundays with my elderly father who is less and less mobile.
After not attending church for a month, I fell into a spiritual rut. I noticed that I needed the once-a-week pause to praise and reflect.
I had to do something, so I found a church nearer to home. It was a hard decision because I attended my former church for 14 years, but with car problems and the inability to take the T with my dad, I had to make the tough choice. I cannot complain because the new church is also filled with love, spirit and faith.
I want to thank my former church for taking me along a path of inner discovery to a life filled with faith and discernment. I will come back to visit.
It's Okay
For now until I can fix my car, I will only drive distances very close to home. I do not want to be stranded with my dad if my car breaks down. It happened once this past summer, and it was quite the adventure. God was there all along, and we made it home. That was when my father could walk a relative distance. Just as my father's mobility has decreased, my car that I have had for the last 11 years is also starting to become frail. Such a life! It is not easy seeing my father walking with a bent back, his body achy, his lurch forward as if he will fall forward. I sometimes cry when I think of his walk. When I was little, I used to have to rush to keep up with his strides. Now, I have to wait for him. And that's okay!
Oh, and no! I do not want another car. I just need a car, so I can drive my father to the sitter and doctor's. I am actually enjoying taking public transportation. I think I might have mentioned this point in an earlier post. The bus or train are the only space in which I do not need to lead. I can just sit and be. I just get up upon arriving at my destination (if I do not miss my stop while writing). There are the times, I have to rush to catch the bus, but I take it as an adventure. Sure, I get out of the train, climb the steps (feel it in my glutes), notice the connecting bus, and then start running. Out of breath, I love when I catch the bus or train. Public Transportation makes me move! Gives me a little adventure and goal for the day!
Faith
During Easter, I love hearing about the prayers fulfilled and the prayers unfulfilled yet hearts replenished. One of our pastors used to remind us that even though our prayer requests may not be fulfilled, one thing is for sure, God is by my side. That is true, when my mom was battling cancer. We prayed. We spent time with her. We laughed with her. We prayed, but her body lost the battle. Though I felt distraught and lost, I literally felt God's presence as my mom was losing a hold on her body. I knew she was not alone. I also knew we were not going through this alone. By her bedside, worship songs were slipping from my lips, so I sang, and sang for her as she lay with tubes in and on her. I sang all through the days and nights I sat by her side. I found God's love in the presence of close and extended family who did not leave our side. Family members even traveled to Haiti with us to lay my mother's remains to rest.
I remember when I started attending my former church, I was so sad about so much, but I just sat and sat, attended, attended. I realized after my mother's passing that at the time though I was not "buying" the church stuff, I was preparing for a marathon-life without my mother. Thanks to God (literally), I was prepared. Once again, I want to thank my former church and pastor.
Rebirth
I am glad that no one pushed me into God. I saw my former church's ad in the paper, and I just sat in the church, heard the sermons, enjoyed the worship songs, and learned how to talk to God and find joy in my life.
So on Easter, I usually wake up early, skip the gym, make sure I do laundry on Saturday. Usually already in the shower, I am yelling, "He has risen. He has risen." I never was this excited about Easter when I was little. It is because now as an adult, I have seen and witnessed death and rebirth of my joy and spirit for life. I know all too well the power of resurrection. (I mean of course I did not go through Jesus' experiences.) I am humbly just confirming that I have witnessed birth, death, and rebirth in nature and in life.
The presents during Easter are the stories of prayers answered or hearts filled with even more faith despite unanswered prayers.
When my son was little, we used to rent "Secret Garden" to watch after church- a story about second chances and resurrection. During those Easter sundays, I loved seeing my son looking for the eggs of promise. Instead of candies, we used to put clues the next egg's location for my son and his cousins.
Slice of Life
So, this year, I did not give up anything. Many years, I have heard pastors advise people to take on something instead of giving something up. "Slice of Life" has allowed me to take on "something": writing and noticing the wonders or idiosyncrasies of the world around me. Though, I sometimes, worry that I will run dry of ideas, I will have faith that my well will not run dry.
So, I did not give up anything this year, but I took on a challenge that keeps me thinking and writing!